Wendy Chung, MD PhD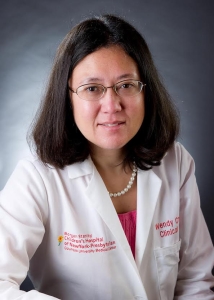 Herbert Irving Assistant Professor of Pediatrics and Medicine Director of Clinical Genetics
Columbia University
1150 St. Nicholas Avenue, Room 620
New York, NY 10032
212-851-5313 (phone)
212-851-5306 (fax)
Wendy Chung, M.D., Ph.D. is a clinical and molecular geneticist who directs the clinical genetics program at Columbia University and performs human genetic research.  She is currently the Herbert Irving assistant professor of pediatrics and medicine.  She received her B.A. in biochemistry and economics from Cornell University, her M.D. from Cornell University Medical College, and her Ph.D. from The Rockefeller University in genetics.
Clinically, she directs programs in genetic risk assessment for cancer, cardiomyopathy, arrhythmias, and diabetes.  She cares for many patients with inborn errors of metabolism and uses dietary management, enzyme replacement, and organ transplantation to treat their disease.  She studies families with multiple affected family members using methods of linkage analysis, chromosome microarray, and high throughput sequence analysis to determine the underlying genetic basis of disease within families.
Dr. Chung directs a clinical molecular diagnostics laboratory and develops novel genetic tests to improve clinical testing including preimplantation genetic diagnosis to help couples have healthy children.  For her contributions in this area, she received the Medical Achievement Award from Bonei Olam.
Dr. Chung directs NIH-funded research programs in human genetics of complex traits such as obesity, diabetes, breast cancer, pulmonary hypertension, and birth defects including congenital diaphragmatic hernia and congenital heart disease.  She serves as the molecular genetics core for the Pediatric Neuromuscular Clinical Research Network studying spinal muscular atrophy, the New York Obesity Research Center, and the Diabetes and Endocrine Research Center.  She was the recipient of the American Academy of Pediatrics Young Investigator Award.  She has authored over 80 peer-reviewed articles and 20 chapters and reviews.
Dr. Chung teaches genetics across the Columbia University campus to the medical, dental, nursing, graduate, and public health students.  She is the fellowship director for cytogenetics and molecular genetics.  She is a member of the Glenda Garvey Teaching Academy and has won many awards for teaching including the Charles W. Bohmfalk Award for Distinguished Contributions to Teaching, American Medical Women's Association Mentor Award, and Presidential Award for Outstanding Teaching.
Dr. Chung also lectures and writes on the legal and social issues raised by genetic testing, disparities in access to genetic care, confidentiality and privacy of genetic information, and gene patents and intellectual property.  She is a member of the Columbia Center for BioEthics.
Dr. Chung enjoys the challenges of genetics as a rapidly changing field of medicine and strives to facilitate the integration of genetic medicine into all areas of health care an accessible and cost-effective manner that is medically, scientifically, and ethically sound.
Robert D.Steiner, MD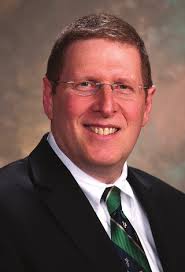 Executive Director-Marshfield Clinic Research Foundation
Chief Science Officer-Marshfield Clinic
Associate Executive Director-Institute For Clinical and Translational Research (ICTR, CTSA grant) University of Wisconsin
Phone: 715-650-3030
Robert D. Steiner, MD is Clinical Professor, University of Wisconsin School of Medicine and Public Health. Steiner is also Chief Medical Officer for Acer Therapeutics. Prior to his current positions, he most recently served as Executive Director of Marshfield Clinic Research Foundation (MCRF), Chief Scientific Officer for Marshfield Clinic, and Executive Associate Director, University of Wisconsin Institute for Clinical and Translational Research (ICTR). Before relocating to Wisconsin, he was Credit Unions for Kids Professor of Pediatric Research, Professor of Pediatrics and Molecular & Medical Genetics, and Vice Chair for Research in Pediatrics at Doernbecher Children's Hospital and the Institute for Developmental Disabilities, Oregon Health & Science University (OHSU) in Portland, Oregon where he retains an Affiliate Professorship. Steiner earned an MD from the University of Wisconsin School of Medicine and completed a residency in pediatrics at Cincinnati Children's Hospital Medical Center followed by a fellowship in medical genetics at the University of Washington and Seattle Children's Hospital. Dr. Steiner is board certified in pediatrics, clinical genetics, and clinical biochemical genetics.Dr. Steiner is an active clinician in the field of medical genetics, with specific interests in inherited metabolic diseases, lysosomal storage disorders, cholesterol disorders, mitochondrial disorders, urea cycle defects, metabolic bone diseases, neurodevelopmental disabilities, genomics, and newborn screening. He has been listed in Best Doctors in America 2009-2016 and Portland's Top Doctors in Portland Monthly Magazine, 2012. In addition, he is an accomplished researcher, having served as the Principal Investigator for more than a dozen clinical trials and clinical research studies on Lysosomal Storage Diseases, Smith-Lemli-Opitz Syndrome (SLOS), Cerebrotendinous Xanthomatosis, Osteogenesis Imperfecta, Phenylketonuria, and others. Cumulative individual grant and contract funding exceed $16 million. He has enjoyed continuous NIH research funding for more than 18 years. Steiner has authored nearly 150 peer-reviewed original research articles, and more than 75 letters, reviews, book sections, and book chapters, on pediatric and genetic diseases and related topics. He currently serves as a Communicating Editor of the Journal of Inherited Metabolic Disease and is Deputy Editor for Nature/Springer's Genetics in Medicine.Dr. Steiner is a member of several professional societies, including the American Society of Human Genetics, American College of Medical Genetics and Genomics (ACMG), Society for Inherited Metabolic Disorders, and the Society for the Study of Inborn Errors of Metabolism. He is an elected member of the Society for Pediatric Research and a member of the American Academy of Pediatrics. Steiner has had numerous appointments on national committees and advisory boards including serving as Chair of the ACMG working group on Pompe disease, as a Standing/Steering Committee member of the Newborn Screening Translational Research Network, and as a member of the ACMG Therapeutics Committee. He is an active supporter of several patient advocacy groups including service on the SLOS Foundation Medical Advisory Board, and Batten Disease Support and Research Association Medical/Scientific Advisory Board. Recently, he was elected a member of the ACMG Board of Directors. He is a member of the Executive Committee of the ACMG board and ACMG Treasurer. Finally, he was a member of the Institute of Medicine (IOM) Committee that published recommendations on Accelerating Rare Diseases Research and Orphan Product Development.
Dr. Gregory M. Pastores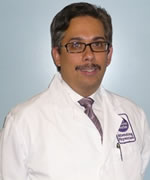 New York University
403 East 34th St.
Rivergate Bldg.
New York, NY 10016
212-263-8344 (phone)
212-263-8310 (fax)
Since 1993 Dr. Pastores has been a Clinical Geneticist at NYU. He received his degree in pediatrics from the University of Santo Tomas and completed his residencies at Polymedic General Hospital (Pediatrics) and Mount Sinai Medical Center (Pediatrics).  His fellowships were at Mount Sinai Medical Center (Pediatrics) and the Mayo Clinic (medical geneticist).
Dr. Pastores has held the position of Associate Professor in the Departments of Neurology and Pediatrics at NYU Neurogenetics Lab and NYU Neurology Associates since 1993.
"Our focus is on elucidation of the natural history of selected lysosomal storage disorders (LSD) and development of therapy for these conditions. We are engaged in clinical trials at the Rivergate Site, and in the Laboratory we conduct molecular and biochemical investigations to characterize the underlying gene defects and pathogenetic mechanisms associated with various LSDs."
Sandra Catarina Conceição Alves
Centro de Genética Médica Jacinto Magalhães
Unidade de I&D, Departamento de Genética
Instituto Nacional de Saúde Ricardo Jorge (INSA)
Portugal
Sandra Alves has a Ph.D. in Biology (Human Genetics) from the Faculty of Sciences, University of Porto. Her early research centered on Pharmacogenetics. Today, she is focused on lysosomal storage disorders (LSDs).
Since 2004, Sandra has been an Auxiliary Researcher at the National Institute of Health with Dr. Ricardo Jorge (Research and Development Unit – Department of Human Genetics) and Head of the Lysosomal Storage Diseases Research Group. Her work includes the study of variation in genes determining missorting of lysosomal proteins (via Man-6P dependent and independent pathways) and the development of innovative therapeutic approaches for LSD-causing mutations.
In recent years, she has supervised several master and Ph.D. theses on LSDs. She is a member of the European Study Group on Lysosomal Storage Diseases and a reviewer of scientific papers for several international journals. She has authored more than 20 articles published in international scientific periodicals and more than 40 communications in scientific conferences.