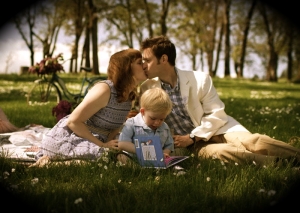 Jonah's Just Begun-Foundation to Cure Sanfilippo Inc. is a 501(c)3. The foundation raises funds then distributes them to academic research groups focused on finding treatments for Sanfilippo Syndrome, MPS III.
JJB was formed in 2011 after parents Jill Wood and Jeremy Weishaar after their son Jonah was diagnosed with Sanfilippo Type C. Jonah's astute pediatrician, Dr. Hai Cao MD (South Slope Pediatrics), suggested that Jonah receives an MRI based on his abnormally large head size. Jonah's Neurologist, Dr. Romaine Schubert (New York Methodist), concurred. At the time of diagnosis, Jonah was 22 months old and asymptomatic. Upon learning that their child had a fatal genetic disease that had no treatment, Jill and Jeremy received some advice from Jonah's Geneticist, Dr. Karen David, also from New York Methodist. Dr. David told Jonah's Parents to make a treatment happen. It was this advice that spawned JJB.
Jill and Jeremy hit the ground running, locating the world's few scientists that were working on Sanfilippo, and seeking the support of like-minded parents. JJB brought these parents, scientists, and clinicians to New York for a patient population in May of 2011, just one year after Jonah's diagnosis. Together they identified the three most promising approaches to a treatment. The parents went home filled with hope and began their grassroots fundraising efforts.  The scientists went back to their labs, inspired by the parents.
Today there are half a dozen Sanfilippo research projects in progress and a knockout mouse model.  Jonah's Just Begun works hand in hand with other International and US type C Medical Research Foundation, we call this consortium HAND.
 *Photo courtesy of Rustic Pear Photography
Our Mission Statement
Jonah's Just Begun – Foundation to Cure Sanfilippo Inc. is a 501(c)3. JJB raises funds and then distributes them to academic researchers focused on Sanfilippo Type C. We have two goals: first, to drive the science that will ultimately lead to a cure for Sanfilippo Type C; and second, to raise awareness for all rare diseases. We also empower and encourage others affected by rare diseases to advocate for cures.