I know it all seems a little bit confusing.  Well, let us break it down for you.
Every year, as we approach our annual fundraising event, we get to do fun stuff like coming up with a theme, thinking of cool entertainment, and shop for decorations.  The euphoria of event planning only lasts until we have to start begging people for sponsorship and item donations for our auctions and raffles. Little known fact, most of our money is raised on the auction/raffle.  In fact, all the wind goes out of our sails at the thought of having to go "door to door" asking for help, and talking about our little boy with his rare disease.  Once we get our item donations, we usually end up spending more money making them into beautiful, "must have" gift baskets.
So, Mari had the BEST IDEA, we will register for items, and ask YOU, our people, to buy them for Jill's birthday.  You can check out what we have on our registry by going HERE.
To give you an idea for one of our baskets, we present to you…..
THE ULTIMATE STARWARS SLEEPOVER BASKET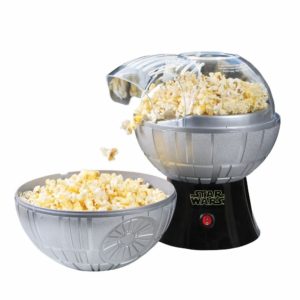 Rogue One Death Star Popcorn Maker
Death Star Waffle Maker
Darth Vader cooking apron
Star Wars Sleeping Bags
Gourmet Popcorn Kernels
R2D2 Bowl Set
Starwars Toys
and more!
Head on over to Amazon and check out OUR LIST, even better, shop Amazon Smile for double the impact.  For those who have never shopped Amazon Smile before, go to https://smile.amazon.com, login in with your regular Amazon account username and password, then choose Jonah's Just Begun as your charitable organization of choice.  Amazon Smile has all the same benefits as Amazon accept they donate a percentage of the sale to JJB.
Remember to click the "gift option" so you can write down who it's from.  No need for gift wrap, opening the boxes is fun enough!